---
[Get a Quote]
---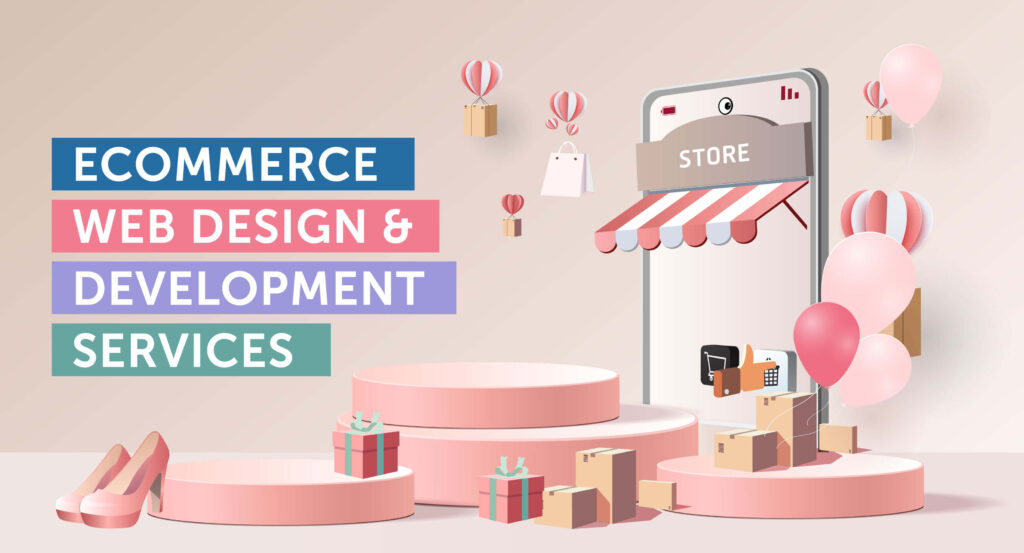 Conversions and profits can be made or lost based on the look and feel of your eCommerce website if you don't have a standard ecommerce website design.
A web server, payment processing, an inventory database, and a complex dispatch system are just some of the features that aren't available on a basic website when it comes to an e-commerce site.
It's been almost a decade since Socialander Digital Agency developed a top-notch e-commerce site.
We work with our clients to create a high-performance e-commerce website that drives sales fast, effortlessly, and effectively.
Find out how our digital marketing professionals can help you raise your ROI with a new and inventive eCommerce website design.
What is Required to Create a High-Performance Ecommerce Website Design That Looks Great
A good eCommerce platform will help you establish the greatest eCommerce shop no matter what sort of eCommerce site you want to build.
Ecommerce platforms may be divided into three categories:
Open-source.
SaaS.
Headless commerce.
Page builder, checkout page, payment gateway integrations, and more are all included in each service.
Those e-commerce platforms differ in the following ways for any ecommerce website design:
Customization.
Performance.
Set of built-in features.
Flexibility.
Saas Platforms
There is no need to develop an eCommerce store from scratch when using a SaaS platform. Using a visual editor, you can create a store in only a few hours, but customization options are restricted and you can't add new features.
Open source platforms
With enough time and effort, an open-source e-commerce platform can be transformed into any type of website. Because you're starting from scratch, you'll need access to a team of programmers and designers.
Headless commerce Platforms
Using a sophisticated backend commerce engine and a lightweight platform, you can build unique shopping experiences for your customers no matter where they are.
Headless commerce separates the front-end from the back-end, enabling you to switch platforms at any moment. Additional systems, on the other hand, are required for a more intricate process.
Whichever shop builder you choose, be certain that your top option offers the following qualities before launching your business;
Mobile responsive.
Customization opportunities.
User-friendly site navigation.
Provides a compelling user experience.
5 Ways To Increase eCommerce User Engagement
Help others by distributing useful information.
It's rewarding to share your expertise in the form of high-quality material on your social media accounts.
In addition to coming back for more, those who have the opportunity to learn from you will build a community and spread your information to other locations, therefore helping you with marketing efforts.
Create a superb and user-friendly navigation system
If your navigation is so convoluted that individuals can't find their way around it, your material won't be of any use to you.
All platforms and numerous suppliers should be covered.
For an activity that is significant to you, such as purchasing your product, users prefer to utilize a range of devices and frequently switch between them throughout the process. As a result, it's imperative that you have a presence on every platform.
Think carefully when employing CTAs
The major visual signals that lead your customers to perform what you want them to do on your sites are compelling calls to action, which are essential for any eCommerce website.
Call To Action (CTAs) like: "Buy Now," "Click Here," "Contact Us," and so on are common.
Take use of stunning visuals to tell your story
People are visual creatures, therefore in addition to a well-designed website, you need high-quality photographs.
A consumer should be able to zoom in on high-quality images of a product on every website. Use actual images of individuals actually utilizing the product if you want to go a step further.
Your eCommerce website's success is heavily reliant on how well you can keep your customers interested in what you're selling. In order to guide visitors around your website, you need to offer both useful information and an easy-to-use navigation system.
What are the benefits of working with Socialander Digital Marketing?
Digital marketing experts from web designers and creative writers to SEO gurus and video producers work together to help you build your business.
Socialander Digital Marketing Agency has been existing for over 5 years.
We've launched over 400 websites throughout our time.
Honesty and integrity are at the core of our business practices.
We Pay Attention: We take the time to understand your company objectives.
We promise to meet our deadlines, and we do so.
Originality: We don't use pre-made designs.