Socialander Provides Custom SEO-Optimized Website Design and Development Services to Increase your Business Online Visibility and Boost Your Sales.
Get Free Proposal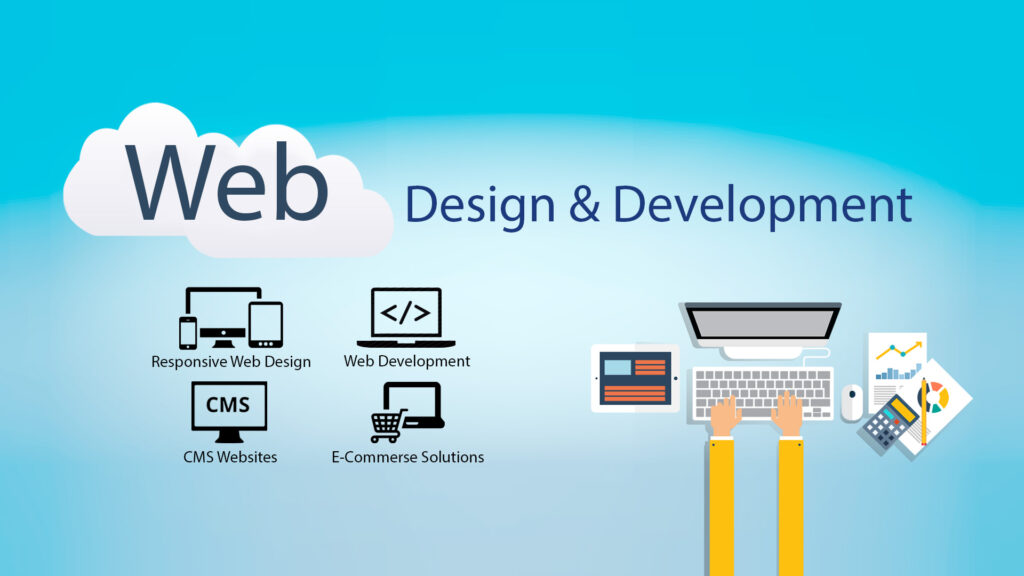 There are endless opportunities on the internet for businesses of all types; you have to leverage and make the most of its potential to your advantage.
Socialander Digital Marketing Agency's website design service will help you establish your digital presence and maximize your market potential.
We can help with website design and development, search engine optimization (SEO), and overall site maintenance.
Advertise Your Brand/Business With Amazing Web Design
It is vital to keep in touch with customers and prospects in today's digital age to expand your business and gain new markets.
According to statistics, 4.57 billion people are internet users worldwide, covering about 60% of the world population.
Among these, 53% carry out research before connecting with a brand after making their decisions.
A research carried out from a study by Episerver also showed that 92% of consumers visit brands' websites for multiple purposes other than purchasing.
These include product/service research and comparison shopping, and business review.
These data show that consumers don't buy on impulse.
Online shoppers have the right to compare brands to discover the best prices, features, and offerings on the global market.
You lose the chance to reach your target audience and promote your brand without a web presence.
A custom, interactive web page design can help you build consumer trust and get market referrals.
Fantastic Web Design Showcases Your Brand and Grows Your Business
A digital presence is more than just having a website. Customers must be able to contact your brand through it.
Your company's website is its online foundation.
Your website is your first customer contact and conversion engine.
Therefore, it is vital to ensure that it ranks well in search engines, has outstanding metrics from your competitors, and addresses the needs of your visitors.
According to statistics, 94% of the first impressions about your business are influenced by website design and navigation.
Search engines also prefer websites with well-structured content and responsive web design.
75% of website credibility is due to web page design.
Your website design must appeal to both search engines and users online.
When people search for your business online, they must see that it is legitimate.
Hence, you risk losing the trust of your potential clients and dissuading them from engaging with your brand.
Get a responsive website design to build trust in your brand's offerings and increase sales.
Our web design company offers SEO-friendly web design services.
We aim to improve your search rankings, increase online exposure, and convert page visitors into paying clients.
Get in touch with our web design agency, and we'll help you create a web page that attracts qualified traffic and increases conversion rates.
We are available to discuss the design of your website.
Contact Us Today!
Advantages of Responsive Website Design
Many screen sizes can be used across different devices.
However, your web page design must adapt to all screen sizes, both for current and future use.
Responsive website design allows you to ensure that your website meets customer needs and is compatible with the capabilities of any device they use.
These are just a few reasons why Socialander's web design services make sense and stand out among the crowd.
Below are some of the benefits you stand to get when you work with us.
Search engines use site speed, usability, and web content to determine a website's worth, metrics, and performance.
Websites with responsive web designs and SEO optimization are more prevalent in branded and unbranded searches.
Our WordPress website design agency can help you ensure that your site follows search engine guidelines and achieves high usability scores.
Our SEO agency and web design team can provide keywords/topics for your business website and optimize for the business/brand targeted keywords.
This will help to boost your organic search rankings.
Responsive website design allows you to have one website optimized for all devices.
This eliminates the need to code for multiple systems and simplifies site development and management.
Mobile responsive web page design is a great way to reduce your web development and maintenance expenses.
Conversion-oriented web design is a cost-effective and efficient way to increase your web presence.
Optimized websites have greater online visibility and are more likely to be found by the right people.
Our web design agency can help you ensure that the right customers see your business at the right time and on any device or browser.
Leads and Traffic Generation
According to a research study, it was noted that 69% of individuals use their Smart Phones to perform product research.
This group accounts for about 52.6% of global web traffic from mobile devices.
Our web design agency will place trust signals on your site and optimize them for mobile usability and browser compatibility.
This will help to turn it into a lead generation machine.
The desktop has been replaced by mobile web browsing as the preferred choice for internet users.
According to a research study, 70% of all digital media time spent in the U.S. was spent on smartphones.
Get a WordPress website designed by our experts and enjoy a user-friendly website responsive to all devices.
Following a research study, it was observed that the global retail conversion rate on mobile devices is very low.
Hence, you can dive into getting standard WordPress website services to increase the mobile-friendliness of your website and improve your conversion rate.
Responsive web design is not only a way to move your customers into the sales funnel, but it also complements your Social Media Marketing and Pay-per-click Advertising campaigns.
Currently, mobile shopping is essential in brand selection and for every business.
60% of online shoppers indicate interest in the website's mobile shopping usability.
A responsive website design is essential to online success, as 30% of Google searches are conducted via mobile devices.
Socialander's WordPress web design services will provide your page visitors with a positive and engaging mobile experience.
A better user experience can improve brand image and increase online trust.
According to Smart Insights, 65% of customers have a better view of businesses if they are offered seamless mobile experiences.
A responsive web page design will ensure that your website is easy to read and navigate.
With our WordPress web design services, we help you build and strengthen your business's identity through user-friendly website design.
Customers Review
How Responsive Web Design Improves the User Experience
It is essential to emphasize the importance of responsive web design in improving user experiences.
Responsive website design delivers a consistent experience across different screen resolutions.
It removes unnecessary elements from pages and offers an excellent user experience.
WordPress web design services can give you an edge, whether a marketer or a business owner.
Socialander's WordPress web design service focuses on optimizing your website for user experience and achieving long-term success.
Our WordPress web design agency will ensure that your website meets all Google Core Web Vitals.
Socialander is 100% committed to your digital success.
You can expect a website designed by our agency that is search engine friendly, engaging page visitors, and highlights your brand identity.
Customers Reviews
From these reviews, we can also do the same thing for your business and Maximize conversion Opportunities with the help of our web design agency.
Contact Us Now
WordPress Web Design Experts
WordPress is the most popular CMS worldwide. According to statistics, 59.4% of all websites worldwide use WordPress as their content management system (CMS). 
WordPress powers almost 35% of the internet. It also manages the additional 1 million domain registrations every six months.
This is not surprising considering WordPress' easy-to-update and user-friendly CMS.
WordPress allows you to log in to your website, make changes and save the site immediately.
WordPress also provides many plugins, support, and security options to help website owners create an enjoyable user experience.
Socialander's WordPress website design service will help you establish a solid digital foundation and get ahead of the rest.
Our WordPress website design agency will work closely with your project managers to ensure that every aspect of your website is consistent with your brand and goals.
We keep up-to-date with industry trends to provide WordPress web design services tailored to your requirements.
Here are some things you can expect from our WordPress web design agency.
A thorough WordPress web design process
WordPress website design professionals
Frontend developers and experts
Site performance testing
Project management
Campaign reports.
Get in touch with our WordPress experts today by contacting our web design agency.
Custom Web Design Solutions
Socialander takes the time to create WordPress web designs that reflect your brand and meet your audience's needs.
Our WordPress web design company does not use pre-packaged graphics or templates.
To identify your unique selling point (USPs), we conduct a site analysis, competitor benchmarking, and audience analysis.
This will help us determine the clear conversion path for your website.
Our custom WordPress website design services will allow you to:
Setup industry authority
Protect your brand image
Highlight your unique value propositions
Make a positive brand association
Create a personal brand experience
Increase the scalability of your website
Site development and management costs can be reduced
Increase your site's long-term viability.
You have complete control over every aspect of your website's design and functionality with a custom-built website.
Socialander's web design and development professionals ensure that your website navigation, layout, and color scheme reflect your brand.
Our web design team will optimize your website for search engines to increase your online ranking and capture your target audience.
Do not settle for web templates. You can invest in custom web pages and create a digital representation of your company/brand.
Socialander Website Design and Development Services
Here are the following web design services we offer on our Agency.
1. Content writing
Your website should be updated with industry-relevant information that is unique, complete, and relevant to your customers.
A team of content developers creates data-driven web content strategies.
Our WordPress web design agency includes a team of these content writers.
Let us assist you in optimizing your website content for search engines and online users.
2. Video Production
According to surveys, 51% of marketing professionals believe video is the best content for capturing audience attention and achieving a high return on investment (ROI).
Video content can be integrated into your website to attract high-converting customers.
Our web design company collaborates with cinematographers and directors to create videos that communicate your brand message and encourage viewers to explore your website.
3. Logo Design
Your company logo is a crucial element of your branding and can be used to help clients recognize you.
A custom logo design will reflect your brand's professionalism, trustworthiness, and identity.
Socialander offers logo design creation and redesign services at a reasonable price.
4. SEO (Search Engine Optimization)
SEO-optimized website design is a must to ensure search engines easily crawl your website.
Our WordPress web design agency will optimize your web content and write descriptive alt attributes.
We use link building strategy so customers can find you more easily.
Also, ensure that your website navigation is search engine-friendly.
These are key to improving your organic search rankings.
5. Conversion Rate Optimization (CRO)
Our WordPress website design agency can help your page visitors move up the sales funnel.
Our team will optimize your website speed, remove unnecessary fields, place clear calls-to-action (CTAs), and simplify your page navigations.
We also conduct A/B testing to ensure all aspects of your website convert well.
6. ADA-Compatible Web Design
It is essential to comply with the Americans with Disabilities Act Standards for Accessible Designs to ensure your website provides the best possible online experience for people with disabilities.
Your website should be accessible to everyone online.
Our WordPress web design company offers audio descriptions and video captions, multiple navigation options and follows all guidelines to ensure your website is ADA-compliant.
7. Technical SEO
Boost your website's device responsiveness with combined technical SEO and WordPress web design solutions.
Our team conducts domain audits, performs crawl error reports, optimizes pages for mobile, checks broken links, and optimizes websites for mobile.
All your pages will be indexed by search engines and viewed by online users.
8. Website Analysis
Our WordPress web design company conducts a thorough site analysis to identify your website's conversion potential, threats, weaknesses, strengths, and weaknesses.
We perform SEO audits, analyze competitor sites, check site speed and functionality, and analyze site traffic.
These methods enable us to improve your site's usability and increase site engagement and conversions.
9. Web Hosting
Socialander's web-hosting services will improve your website's performance and security.
We have a variety of hosting plans to suit your financial needs.
Website hosting packages include WordPress hosting, Linux Services, Cloud Storage Plans, 24/7 Customer Support, and more.
Access to extensive domain management tools is also available to ensure that your domains are secure and stable.
10. Website Maintenance
It is vital to maintain your website at its maximum potential.
Socialander conducts regular site maintenance, gap analysis, and scheduled site checks to identify the areas that need improvement.
We use the analytics data to develop strategies to improve your site security, increase traffic, and optimize your page experience.
11. E-commerce Web Design
According to studies, 88% of online shoppers will abandon a website due to poor user experience.
This is not something you want to happen to your online store.
Socialander's E-commerce web design services will make an excellent first impression on potential clients.
Our web designers will optimize your product pages and keep your website professional.
We also use high-quality images to make your content easy to read.
12. Shopify Web Design
Are you ready to launch an online store? Contact us for a Shopify website design that is secure and SEO-optimized.
Our web design agency uses CSS media queries to ensure that Shopify websites adapt to all screen sizes and devices.
We remove visual clutter, remove unnecessary widgets, place high-resolution images, and create web content that reflects you.
Hire Us Today!
5 Powerful Keys to Professional Web Design
Here are some powerful keys to expert Web design and Development.
We have learned from years of experience building websites that to create a website that is superior and stands out above the rest, you need these ingredients:
1. Visual Appeal
A standard website has only one chance to make an excellent first impression.
What impression are your site visitors showing; do they dwell or bounce out when they first visit your website?
People make instant decisions about your brand, products, and credibility when they first see your site.
Your web design must be appealing to your target audience and encourage them to visit your website.
2. Easy to Use
Your users will leave your site if it is difficult to navigate and your valuable content is not easily found.
This shouldn't be the case. Socialander is a Digital Marketing Agency and Web Design Company that focuses on creating intuitive and beautiful websites.
Our users should feel that everything is exactly where they expect it.
3. Highly Optimized Content
It is not like purchasing a car without an engine but investing in a beautiful website design.
Superior websites have compelling, concise content and clear CTAs.
Our website designers work closely with clients to ensure that your website content is written well, search-engine-optimized, and designed with clear business goals in mind.
4. Conversion of Visitors into Customers
We define a conversion or CTA for your website early in the planning process. This could be filling out a form, calling, or buying a product.
We keep this goal in mind throughout the whole process, from design to coding to content creation.
Your website should be your primary tool for company growth.
5. Traffic Growth over Time
Socialander wants to help your website reach the top. We need lots of quality visitors to achieve that.
Our WordPress web design agency will work with you to create an ongoing internet marketing plan.
This includes SEO, social media marketing, and more.
Web Design Services that Deliver Positive Results
Socialander does not just create websites tailored to your company and specific customer needs.
We are a Digital Marketing and Website Design Company that is client-focused.
This means that we want you to be involved in every stage of the process regarding the service we're offering you.
You can expect the following when you work with us on your Business Website Design:
Direct Communication With WordPress Experts
The web design team will schedule regular meetings and consultations to discuss your project needs with you and your team.
These meetings include details about the web design strategy, budget details, scope, work, and timeline.
Meetings are conducted via audio/video conferencing for the convenience of clients.
Client-Centered Processes
You, the business owner, have the final say over the direction of your web design projects.
A dedicated team of project managers will be assigned to you.
They will work with you, review the process, answer questions, and make sure you understand how your site will be constructed.
We also follow an approval process for your site's design, content, and launch.
Our WordPress website design agency creates a custom process that meets your requirements.
We understand that busy schedules can sometimes be challenging. Therefore, we will work with you to be fully involved.
Our WordPress website design company is committed to your online success.
We will take care of all your needs with the utmost professionalism.
Mobile-Friendly and Responsive Web Design
According to studies, 52% of all internet activity in the U.S is done from mobile devices.
Mobile devices are the primary source of internet activity.
We make sure your website is responsive to mobile devices and Google's new mobile-first algorithm update.
We also include clear CTAs to make it easy for users to find the information they need and convert them into customers.
Partnering with us will result in a website that is SEO-optimized.
We design websites from scratch with SEO best practices.
Our website communicates your company's message with all relevant information about your products, services, and company culture.
Our team uses conversion-optimized web design methods and advanced user experiences to ensure your website generates leads.
Full-Service Web Design Services
A custom web design is designed to be visually appealing, user-friendly, mobile-friendly, and converts visitors into customers.
It also encourages growth.
Our digital marketing experience allows us to design a website that offers advanced functionality such as E-commerce, password-protected content, and forums.
We can create it.
Our content writing services include telling your story, building your brand, and attracting traffic using SEO-friendly best practices.
For all your Web Design and Development Services, Get in Touch with Socialander; we are here for you.
Get Started Now!